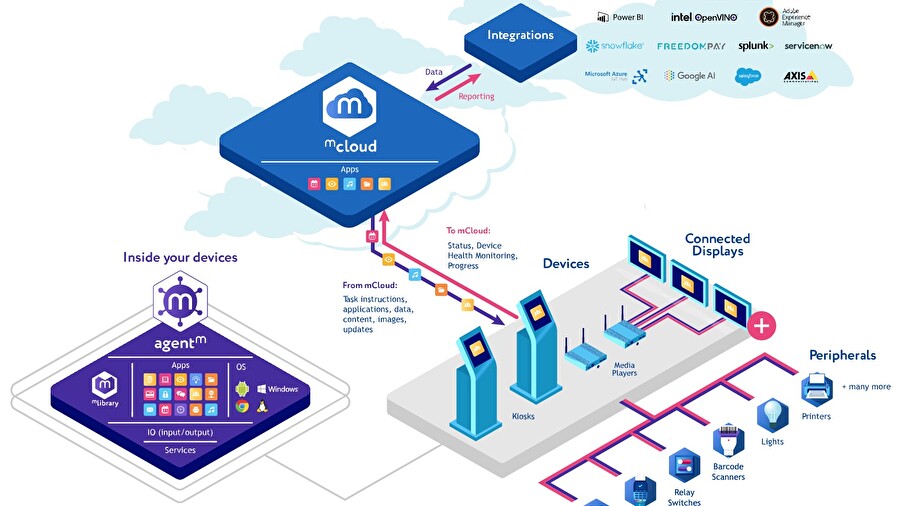 End to end architecture designed for managing your commercial applications
Imagine if you could build for or use existing apps, connect to multiple devices at once regardless of the operating system, monitor and schedule applications, check the health of your device fleet, turn devices on/off, and analyze to drive use - all remotely from a single pane of glass, the meldCX Cloud Console.
Rapidly build production-ready applications with any operating system and language, which rapidly shortens development and testing time, so you can bring products to market quickly and cost-effectively.
Simplify deployment of applications
Seamlessly deploy and scale IoT applications to adapt to changes in your business requirements. The out-of-the-box network and device management platform helps developers to shorten development and testing time to bring products to the market quickly and cost-effectively.
Streamline monitoring and troubleshooting
Utilize a single dashboard, the meldCX Cloud Console, with a view of all network traffic, registered devices, and their status. Access simplified provisioning, centralized management, and real-time insights into all current devices and integrations. Features include a notifications center, easy integrations with 3rd party apps, and an Audit Trail so you can track what action was taken when, and by whom and extract the data.
Security and compliance-focused solutions
The meldCX Core platform meets the highest certification standards to help you stay ahead and stay compliant. Our platform have passed the Payment Card Industry Data Security Standard (PCI DSS) technical and operational requirements set by the PCI Security Standards Council (PCI SSC), meaning any card payments that goes through our platform are secure and protected from data breaches.

Develop, deploy and manage with ease
meldCX's cloud-based API will change the way your company develops, deploys and manages apps on commercial devices.